Free Words With Friends Dictionary Helper
Want to know if "ZA", "QAT" or "SUQ" is present in Words With Friends? Just enter a word into the Free Words With Friends Dictionary Helper: not only you'll learn if the word is eligible in the game, but its definition will be instantly shown, too.
Advertisement
---
Screenshots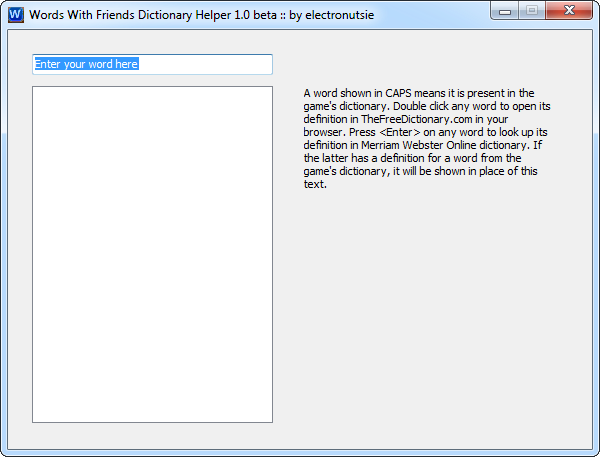 NOTE: By default, the program shows only a word's eligibility in the game: type a word, press Enter, and if it's present in WWF, it would be displayed in caps. If you want a little cheating, deselect the checkbox down the program's window, and it will also display all the game's words containing the word you've entered. Also note that this is a beta version; in particular, the parsing code of Merriam-Webster online database responses is preliminary and does not always produce good results. To view the full XML-encoded response when the parsing seems to be incomplete, press the Markup button.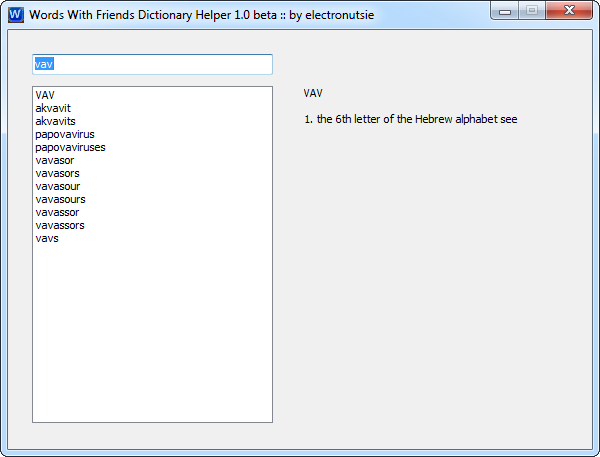 Links


Fast automated MP3 tag fixer with auto art downloading and embedding